What kids dream up these days,
amirite?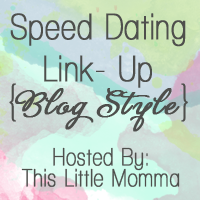 Apparently, Nicole over at This Little Momma
has decided that speed dating is the way to go!
And after reading a few responses,
I couldn't help but join in.

Now I will warn you in advance,
I'm extremely attractive on paper.
But I'm already taken,
So I'm sorry for getting your hopes up early.
But try to resist. For me.


My husband and I are what I think are true soul mates. He was one of my best friends in high school, we made a pact to get married when we were 30 if we never had, and we decided to push it up nine years or so.
We planned our wedding in a week after dating three months. And it was gorgeous. (We married in 2010)
We live in his hometown, and my 'hometown'.
I am currently a homemaker, am more than happy to do this, but am in the process of trying to find a job to beef our monetary earnings.
I am lucky to have my mom be my best friend, as well as having a good relationship with my in-laws. We all live within about a 10 mile radius of one another.
My husband does a lot of the cooking, especially when it comes to meat. But I'm the baker.
I love making things from scratch, especially when it involves the beauty of butter.
I don't like coffee. I have an unhealthy respect for pop though.
I love watching trash reality television. The more weave rippin and posturing the better.
I can watch nearly anything with my husband and enjoy it, simply because we're both two rather sarcastic dry people and comment throughout the entire thing.
I love country music, and have successfully converted my husband into that as well. But we still listen to some of his rock, and both have a cultural fondness for modern Irish music.
I almost never make desserts for myself. I don't mind eating them, but they're not my go to thing. I will make you anything you want should you so much as mention it though.
I'm a horrible people pleaser, even though I can be sarcastic and opinionated to the point of rude. I want to be something meaningful to everyone.
I like to craft and DIY, but have been lacking lately with our personal budget cuts.
I'm my worst critic to the point of meltdowns.
I love nearly all
animals
mammals. (and sometimes birds)
My biggest goal in my life is to be a good mom.
All right then,
You still with me?
I know, who can pass that up hmm?
I bet you're sitting there at your screen,
desperately wondering if divorce is on the horizon.
And I'll tell you what I tell our Mormon friend;
Fifty pairs of high end heels and we'll talk.

PS!
As you can see over on that little sidebar, I'm quickly approaching 100 followers.
I'm thinking of doing a 100 follower giveaway!
Do any of you fine people reading have an idea of budget friendly giveaway items?
If you do, leave me a comment, let me know!
If I decide to use your idea, I'll make sure you get a piece of the action!