I just received quite a charming 'save the date' e-mail from the lovely Live Laugh Rowe. She helps host a wonderful grow your blog series that it turning into a monthly ritual. (P.S. this is where I found another one of my current sponsors, Lish! See? Never know what you might find with these opportunities)

Now we all love more results for less work, right? Well this is another one of those splendid opportunities. One link up provides you coverage on six different hosts! What a great bargain, right? Plus, last month anyway, they did a wonderful series leading up to it with all of the hosts making posts on tips, tricks, and experiences with growing your blog. I found some of them really enlightening. I think you might too!

So for all of you that didn't get in on it last month, Sunday starts the new series and you should really come and check it out!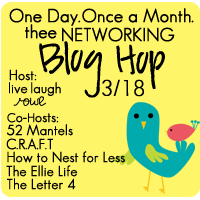 The button leads you to a description and links to last month's.

Hope to see you there!